ATech has delivered results for over 500 customers globally, specialising in mission critical systems with high security, performance and availability requirements.
Bring your next digital idea to life with ATech's high calibre line up of digital talent, our consistent results are achieved via robust project management, a deep understanding of clients requirements and a vendor agnostic approach.
 
Case study
High Traffic eCommerce
An eCommerce platform designed for high traffic sale events attracting millions of visitors, which is fast, responsive and secure.
Virgin Australia delivers new sales channel
Virgin Australia engages with millions of customers each year via their sale events platform. The key goals for the project were to launch an additional online sales channel in a short timeframe and on a tight budget, plus the platform needed to be easy to use, but robust enough to handle millions of simultaneous users during a sale event.
The sale event engine had to be fast, responsive and secure, with the ability to be fully administered by the Virgin Australia ecommerce team and external partners (e.g. car hire and hotel partners) without technical assistance.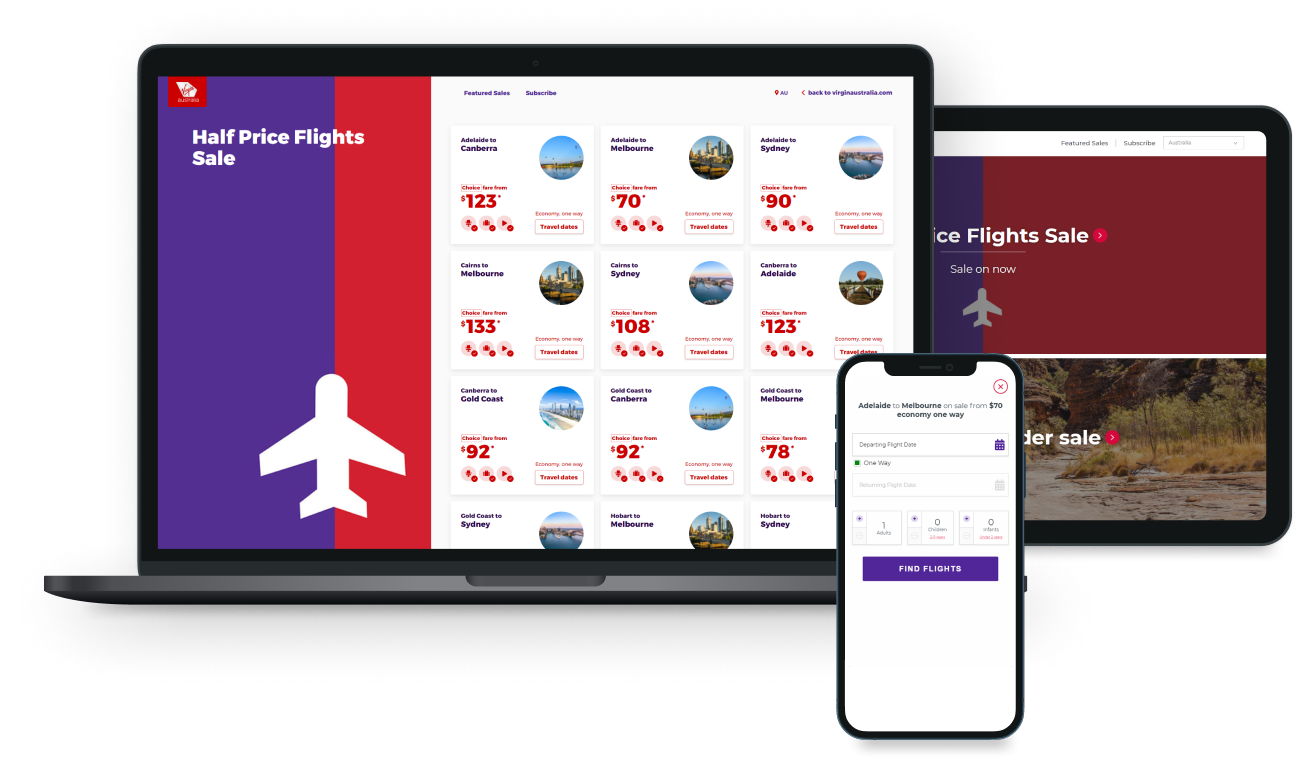 Solution
Virgin Australia opted for a distributed Drupal application, which ATech designed and built with a simple, responsive front end design, and powerful back end administrative experience.
ATech created custom API integrations to connect the platform to various existing systems and delivered the final solution as a turn-key, fully managed custom software as a service solution. ATech provided specialised user experience design, web development, and on-going hosting and system management. 
ATech is extremely professional and very quick to respond. This is refreshing as especially with agile development, you need easy and quick access to your developers – which is what ATech provides
Natasha Duerden
Manager Digital Marketing & Experience
Virgin Australia
Benefits
The platform was designed, built and launched in under six weeks and was awarded International Website of the Year. Generating an impressive return on investment, the platform has hosted nearly 2000 sale events since deployment.
As a result of implementing ATech's solution, Virgin Austria created a new sales channel and have the ability to quickly & simply execute sale events with minimal lead time.
Case study
Corporate Website
A turnkey solution which improves internal efficiencies and enables Seqwater to effectively respond to stakeholders, customers and communities.
Seqwater delivers a new user-focused corporate website with ATech
To achieve greater internal efficiencies and effectively respond to the needs of stakeholders, customers and communities, a customer-focused redevelopment of seqwater.com.au was required to eliminate the following operational issues:
Multiple, inconsistently-branded, websites;
Inconsistent site information;
Poor response times for website support;
Lacking real-time data alignment and publication;
Site reliability issues;
Increasing website maintenance costs.

The website was experiencing availability issues and going offline during peak traffic periods such as flooding events. As an essential service provider to the community, rectification of this issue was of key importance to ensure stakeholders could access critical information during disaster events.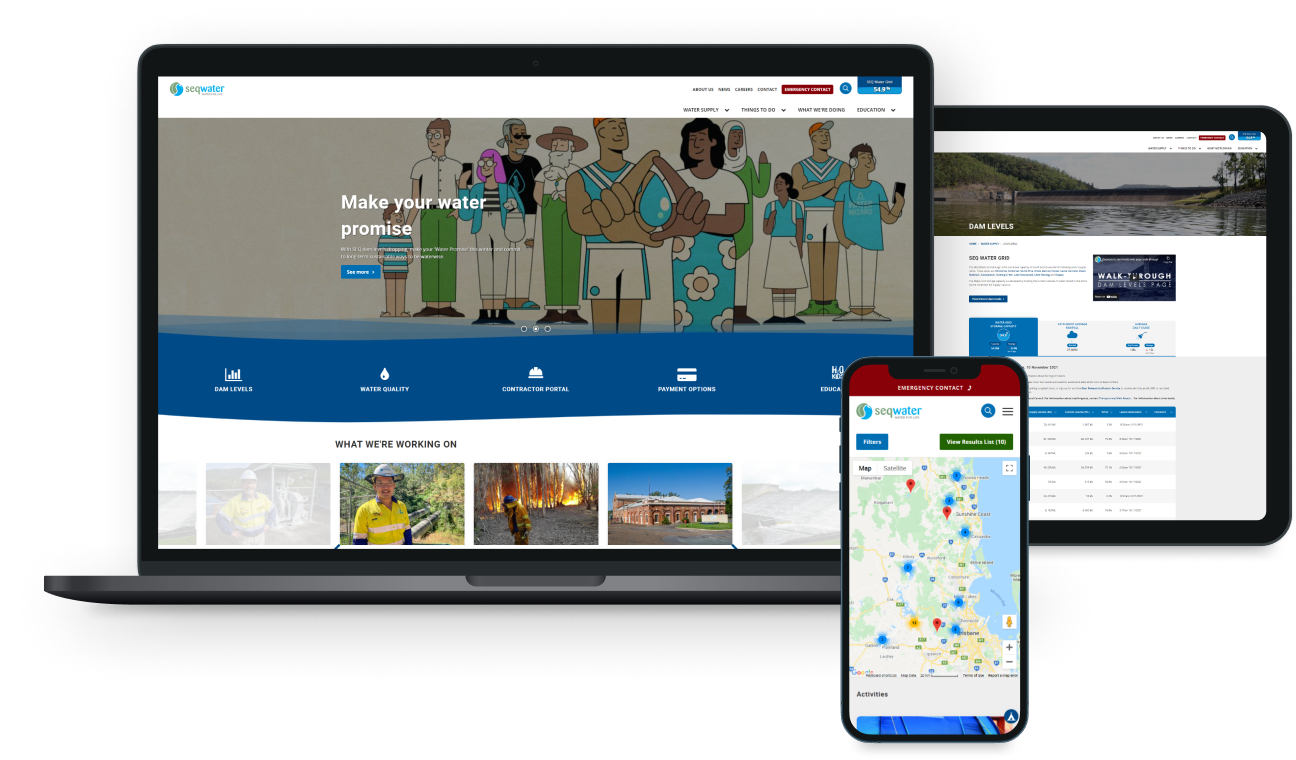 I've been receiving a lot of communication from the executives who have been checking out the site, congratulating the team on a job well done.
Susan Siaosi
Communications Advisor - Digital
Seqwater
Solution
Seqwater engaged ATech for Agile website development discovery, design, build, host and support. 
ATech conducted discovery workshops with each stakeholder group to uncover business, customer, and community requirements and identify the issues with the current website. 
ATech designed and built a new Drupal website to empower Seqwater to provide quality and timely information to the public by presenting reliable real-time information to users in a seamless, attractive, intuitive and consistent manner. 
ATech architected a Drupal as a Service solution to host the website and performed migration services to transition in the new website.
I want to highlight the handover of the corporate website. It was the smoothest I have ever been involved with.
Gayle Meredith
Team Lead of Business Systems
Seqwater
Benefits
The new website provides up to date, accurate, consistent data. As a result of the redevelopment, hosting costs were significantly reduced due to the site being more cacheable, and the more resilient solution can now scale to withstand disaster events. 
The new robust, reliable and secure external facing corporate website solution strengthens user experience and improves employee productivity for content managers and technical support, as well as promoting public self-service, reducing enquiries.
The new platform is a low maintenance value-for-money responsive solution that effectively and efficiently integrates with social media, internal business systems and other Seqwater technologies. It delivers improved quality assurance processes including automated testing scripts for all site functionality, and efficient integration with Seqwater's Change Advisory Board as well as project documentation that supports traceability of business requirements, project activity, decisions and outcomes.
Case study
Customer Engagement Website
Startup delivers new website to modernise branding, improve marketing enablement tools and simplify content management.
Archistar.ai improves ability to engage customers with ATech
The previous Archistar website was slow performing with dated branding. It limited engagement with customers, lacked deep analytics capabilities, and failed to provide insights into customer journeys. Archistar required a solution that would support the marketing strategy and integrate into existing technology.
Additionally, the Archistar marketing team required improved lead acquisition tracking and a simple solution to manage content.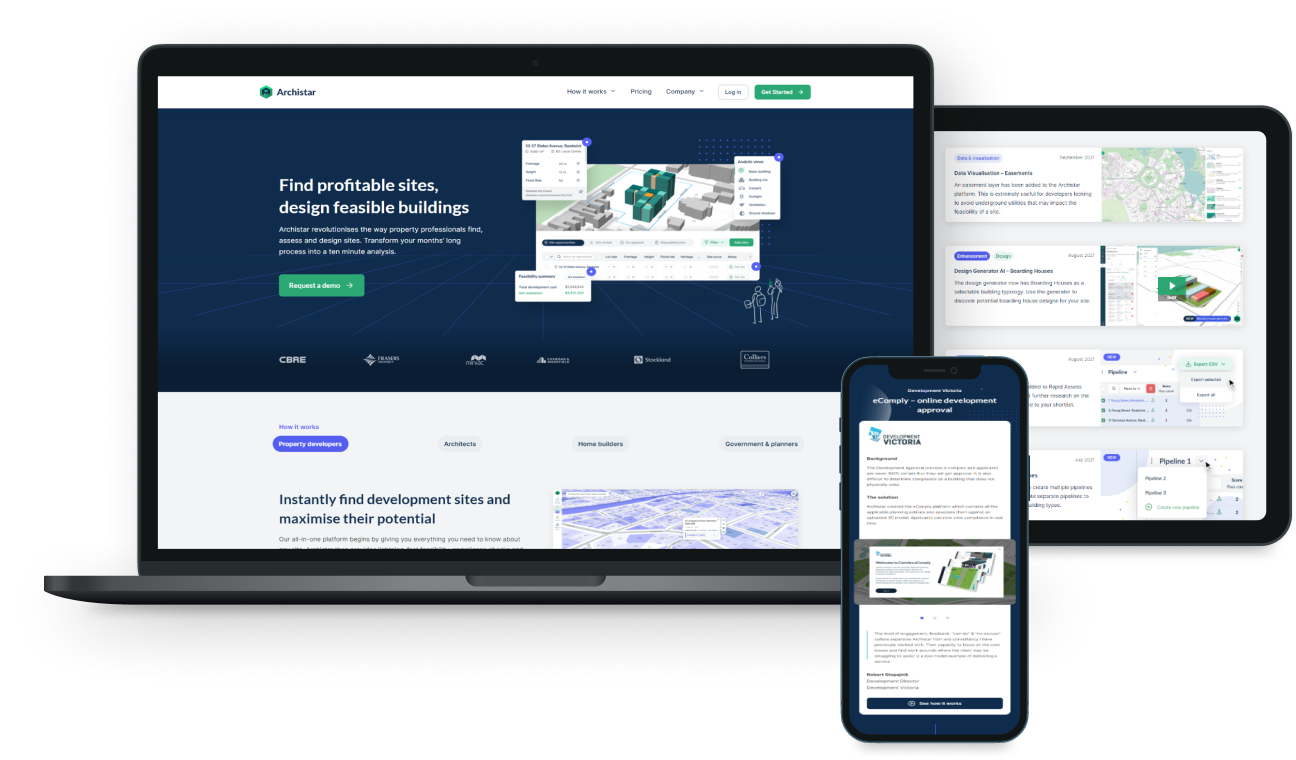 Solution
ATech delivered the final solution that would scale, was highly secure and reliable. This involved Wordpress as a Service, Web development, Analytics (Google & Marketo), Lead acquisition tracking, Webform webhooks and assistance to implement tag manager among other tracking solutions.

Working closely with internal stakeholders, the website was rethemed to improve UX and optimisation across multiple devices, rebranded for better aesthetics, brand awareness, and to modernise the look and feel.

ATech also customised and migrated the new website hosting to provide military grade security, lightning-fast performance and reliability that the site is always available.
I really appreciate the standard and quality – it was a pleasure to see it all coming to life so beautifully so thank you and your team for all your efforts.

Natalie Soontornvinate
Senior Visual Designer
Archistar.ai
Benefits
The end result of implementing the solution, is a modern, responsive website design with leading edge performance and security.
Website pages are easily editable without the reliance on development, resulting in superior marketing enablement, and an improved user experience as Archistar now have the ability to gain deeper analysis of customer engagement due to the tracking and analytics solutions built into the site.
Peace of Mind
If its mission critical, rely on ATech
Guaranteed availability up to 99.999%
Superior cyber security practises